"Leveraging its presence across six well-equipped offices, ALS is firmly positioned in the market as a one-stop-shop that renders any kind of integrated service in logistics," writes Silicon India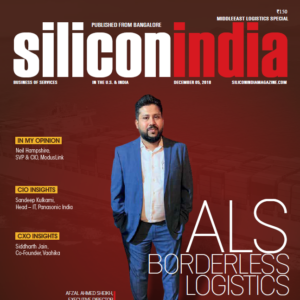 ALS Borderless Logistics, CQR member in Jeddah, Saudi Arabia, has distinguished themselves by getting featured in the Silicon India Magazine which focuses on the entrepreneurial journeys of prominent business persons.
The December edition of Silicon India whose prime focus is on Middle Eastern Logistics has published a detailed article on Conqueror Jeddah and even featured them on their cover page! 
Apart from that, they have created a directory where they have listed 20 Most Promising Logistics Companies in the Middle East. It goes without saying that, ALS Borderless Logistics secured the top position in this list.
"We are thrilled to be featured on the cover page of Silicon India Magazine, a magazine which focuses on entrepreneur and technologists and is published in the US and India. They have run a detailed column about the growth, scope, and services offered by our team while highlighting all the factors which makes us stand out from our competitors. I'd request all my network partners to have a look at the published article!" says Mr. Hareb Sheikh, the Commercial Manager of ALS Borderless Logistics.

Congratulations to ALS Borderless Logistics! We are proud of you!