The first event of Logistics Business Exhibition will be held from 22nd – 25th February 2021, with a second week in September 2021
The Logistics Business is staging an international, virtual exhibition for the logistics and materials handling industry in 2021. The Logistics Business Exhibition provides a platform for interaction between logistics, IT, transport and supply chain services, warehousing and materials handling manufacturing industries. The exhibition virtual marketplace enables visitors to source products online, request specific quotations, meet exhibitors on video calls & chats, networking, downloading documents and more.
With no physical events taking place till at least May, Logistics Business Show will enable international buyers to source products and services via live video meetings, to request quotes, discuss projects and receive sales product information. 70+ exhibitors are anticipated to participate and several thousand visitors.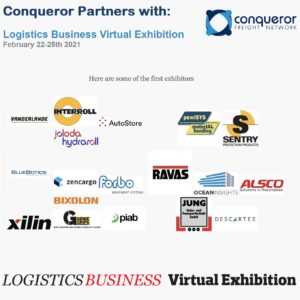 There will be 6 virtual halls: Forklift & AGV Technology, Handling Automation Systems, Packaging & Pallets, Software & Computing, Transport Services & Equipment, Warehousing Equipment. Visitors will be able to browse halls and search for specific requirements from a long list of sub-categories. Watch a demo guide here.
There will also be live-streamed Panel Discussions, moderated by our Editor, Paul Hamblin:
Distribution Centre Project Management; Supply Chain Software-as-a-service Thought Leadership; Loading Bay & Warehouse Safety, Automated & Robot Warehouse Vehicles; Packaging for eCommerce; Contract Logistics & Freight Management, Forklift Technology Innovations; Sortation & Conveying Suppliers' Forum; Storage System Projects, Transport Management IT Platform Decisions; Wearable Devices and Data Capture in Logistics; Pallets & Containers for Green Supply Chains. Visitors will be able to watch them and ask live questions.
There's also a Networking Lounge, Chat Room and Keynote Address. You can read more about the event here.

Email us or call +44 (0)1480 455660