Following the merger that came into effect three years ago, the name of their company has been officially changed to Emons Air & Sea, LLC
Global Fairways LLC, Conqueror member in Detroit, USA, changes their name to Emons Air & Sea LLC following the acquisition that took place in 2018. They have also changed their email address and website name although their previous email ids and web domain will continue to work for some time.
In the words of Lori Fleissner, the President of Emons Air and Sea LLC, "While this past year has been a challenge for the entire world, we are looking forward to a better and brighter 2021. Being a member of Emons Air & Sea for the last two years has proven to be a positive change with more opportunities, new offerings, and continued excellent service."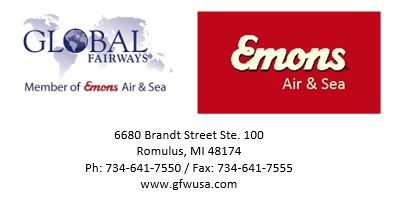 Emons has acquired around forty-five employees who will help in the better organization of their air/ocean freight shipments and local trucking. Emons Air & Sea in Detroit works closely with the German parent company Emons Air & Sea GmbH, Conqueror member in Munich and Stuttgart. The two companies together provide well-coordinated services across the time zones. "This takeover will allow us to better serve our customers who will continue to benefit from the international structure of the company, competent pricing, and our value-added services," adds Ms. Fleissner.
Congratulations to Emons Air and Sea LLC and wishing them the best for their upcoming projects!