Domax Logistics Co. Ltd. cooperated with several network members to move airfreight shipments to Europe and Africa
Domax Logistics, Conqueror member in Hangzhou was founded on 10th September 2009. Their core business is airfreight and during the last year, they cooperated with many CQR members to move several LCL air projects boosting the business within the network.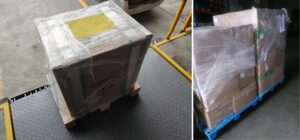 One of the members they have recently cooperated with was C.V.Μ. International, Conqueror member in Athens/Piraeus. They moved an FCL export of a 20/40 container from China to Lagos by sea. Additionally, together with Incotrans, they carried out an export of HM 325 Manual Microtome which contained batteries. This was an air freight shipment that was moved from Shanghai to Lisbon.
"In Domax, we understand that different regional airports have different operational requirements, so we adapt to rapid customs clearance, and arrange the deliveries efficiently. Additionally, we believe that Conqueror has very reliable and professional members and we are delighted to have had the opportunity to work with many of them and contribute to the increase of the business within the network".
Congratulations to Domax Logistics and all the best for their future endeavours!