The seminar hosted by PTN Events focused on adaptability, sustainability and visibility in the realm of transportation and logistics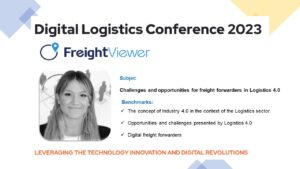 Andrea Martin -Conqueror's FreightViewer Coordinator, took part as a speaker in the Digital Logistics Conference that was held online on 11th and 12th October 2023. In this conference she presented the topic 'Challenges and Opportunities for Freight Forwarders in Logistics 4.0'.
The goal of the Digital Logistics Conference was to gather diverse perspectives from thought leaders, suppliers, customers, and industry experts to explore areas for innovation where the sector can evolve. It's objective was to exchange valuable perspectives and crucial strategies in digitalization & e-commerce, innovation & new technologies, sustainability, integrated shipping & logistics, and securing the supply chain.
The Conqueror FreightViewer Department selected this subject to shed light on the need for coming up with fresh strategies and protocols to navigate the transformative shifts brought about by Industry 4.0. Andrea Martin addressed three key aspects: the concept of Industry 4.0 in the context of the logistics sector, the opportunities and challenges presented by logistics 4.0, and the emergence of the digital freight forwarders.
In her address, Andrea Martin underscored the significance of crafting a digital strategy within the logistics sector to navigate the technological shifts in the industry effectively. Moreover, she shed light on the forthcoming challenges and opportunities that lie ahead. While mastering this new technology and navigating the vast sea of data may present initial challenges, the prospects it brings are indeed thrilling.
In addition, she pointed out how Conqueror's Transport Management Software FreightViewer helps members to implement digitization. She highlighted, the two most important advantages the platform offers- connectivity between members and the ability to be online.
Lastly, she talked about how embracing technology will empower freight forwarders to not only reduce costs and expedite their operations but also to foster innovation and devise fresh solutions for intricate logistical challenges. Concluding her presentation, Martin talked about the emergence of digital freight forwarders and user-friendly online platforms holds the promise of introducing an additional layer of convenience and excitement to the Logistics 4.0 narrative