The shipment of fabric was shipped from China to Turkey via Bulgaria
Trident Freight Ltd, Conqueror member in Varna, Bulgaria, handled the overseas movement of 40 containers of cargo loaded with fabrics from China. The cargo first came in Bulgaria, but at a later stage, the client decided to ship them to Turkey. To this end, they counted on the assistance of Herfurth Logistics, Conqueror member in Istanbul, Turkey.
"Regarding the cooperation with Herfurth Logistics, I can proudly say that they are people who can be trusted. I'd like to take this opportunity to announce the appreciation for their professionalism and value-added services," says Mr Vladimir Demirov from the Sales Department of Trident Freight.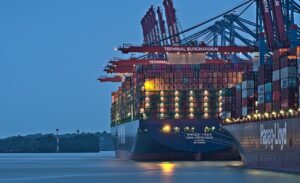 Pushed by the urgency, they needed to ship the cargo by sea to Istanbul, where their partners from Herfurth took charge and coordinated the trucking to Gemlik. Despite the complexity and slow pace of the process due to the nature of the goods and various restrictions, the outcome was favorable.
Congratulations to Trident Freight Ltd and all the best for their upcoming projects!