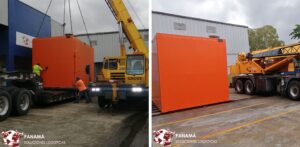 The cargo was transported via both ocean and road freight, from Panama to Turkey
Panama Soluciones Logisticas, Conqueror member in Panama City, Panama, effectively completed the international shipment of a deckhouse, which had a weight of 13,550 kilograms. They moved the cargo by a combination of ocean and ground freight from Panama to Turkey.
They made use of 1×40 flatrack and open top dry containers to move this cargo of massive size. The shipment had dimensions of 5m x 86m x 16m. "Managing the transportation of cargo of this size was undeniably a challenging task that demanded extensive preparations. This shipment held significant importance for us, and our team put in immense effort to ensure its seamless delivery," remarked Luis Carlos Bustamente, Manager of Panama Soluciones Logisticas.
In addition, Conqueror Panama City also provided loading and unloading services, as well as stowage and lashing, to ensure the secure and smooth transportation of the cargo.
Congratulations to Conqueror Panama City for a project well executed!