The SME 100 Award identifies and recognizes SMEs based on growth, turnover, profit, market resilience, best practices, sustainability and vision
AEO Freight, Conqueror member in Penang, Malaysia, wins the prestigious SME100 Awards- Fast Moving Companies 2021. SME Magazine organizes this Annual Recognition Programme, naming the fastest moving businesses of the SME sector. Out of 800 hundred nominated companies in Malaysia, they only selected 100 winners and AEO Freight is one of them.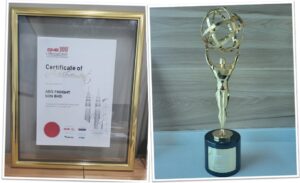 In the words of Rizal Abdullah, General Manager of AEO Freight, "I am so impressed and feel so proud  to win this prestigious award during this challenging time. The effort we put in for over 10 years is worth it."
Founded back in 2005, AEO Freight is the leading logistics services providers in Penang. They have evolved from a traditional logistics company to one of the leading providers of fully integrated supply chain solutions.
"This achievement is an honour. It reflects our company's role in the domestic and global logistics industry. Additionally, this award will enhance our customers' confidence in the company's services. Most importantly, it would also be a good selling point for new customers. Lastly, we hope that this award will strengthen AEO Freight's position as one of the top players in this sector in Malaysia," adds Mr. Abdullah.
Congratulations to AEO Freight for winning this prestigious award and all the best for their future projects!