As a company specializing in international air cargo services, they are perfectly suited for the regular handling of temperature-sensitive medical cargoes
Domax Logistics Co Ltd, Conqueror member in Hangzhou, China, has moved several shipments of PPE and temperature-sensitive cargoes via air freight. To begin with, they moved several batches of shipments of nucleic acid test kits with dry ice and coolant (blue ice), from Shanghai, Guangzhou and Beijing, China, to Ethiopia, South Africa, Italy, Egypt, Bangladesh and Austria. To move these shipments they partnered with China Southern Airlines, Air China, Emirates, and Ethiopian Airlines.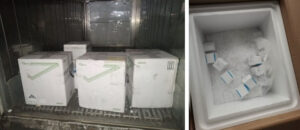 In addition, Conqueror Hangzhou also moved large shipment of oxygen concentrators from Shenzhen, Shanghai, Zhengzhou, Guangzhou to Kenya, India, Myanmar and so on.
In the words of Mr. Bruce Li, the General Manager of Domax Logistics, "Our impeccable international air cargo services have made us one of the leading air freight solution providers in Hangzhou. Moreover, our NVOCC, IATA certifications also help us provide tailor made solutions for our clients. Lastly, as a Conqueror member, we got to collaborate with many reliable logistics companies that have had a positive impact on our sales. All credits for these shipments go to my teammates whose hard work allowed us to execute this project seamlessly."
Congratulations to Domax Logistics and wishing them the best for their future endeavours!