The cargo which was shipped from Baroda was moved all the way to Antwerp
Atlas Shipping Services Pvt Limited, our member in Pune and Bangalore, India, has recently handled a cargo consisting of a huge boiler column which was 30 meters in length. The top-notch team work of Atlas Shipping made possible the successful delivery of this complex shipment. The cargo which weighed around 52 MT was loaded at the Mundra Port with the help of a long boom crane. On reaching the destination, the cargo was delivered with the use of a 4 axel semi propelled trailer.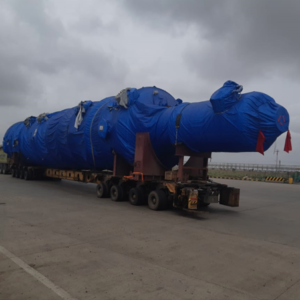 "Moving this enormous cargo during the rainy season was indeed a challenge especially because of the length of the shipment and the terrible condition of the roads. We were required to navigate through small villages which could only be done at night. Our team put forth a great effort and do a hard work," said Sushil Gupta, Chairman and Managing Director of Atlas Shipping.
Congratulations to Atlas Shipping on successfully completing this project!