Their new department will enable them to offer all sorts of logistical services that can be requested for a fair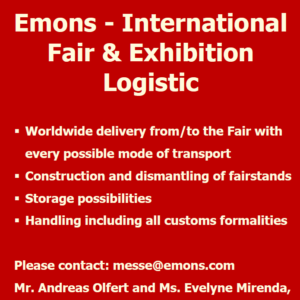 Emons Air & Sea GmbH, Conqueror member in Munich and Stuttgart, has recently expanded their business by adding a new Fair & Exhibition Department at their office in Stuttgart. This is going to be extremely beneficial for all their customers and partners since they now have the ability to cover all the logistical requirements for a fair.
"Our service doesn't end at the main entrance of the fair since we also take care of all customs formalities as well as the delivery and pick up of the items right from the fair stands. Our new department will allow us to provide a more comprehensive range of services for our clients and partners." says Thomas Beinhölzl, the Sales Director of Emons Air & Sea GmbH.
The International Fair and Exhibition Department of Emons will provide additional services to their clients allowing them to exhibit at trade fairs, or participate at events and conferences in Germany. They are also offering services such as customs clearance for temporary imports, transports to and from the venues, off-loading and re-loading with fork-lifts or cranes, storage of empty packaging, and transportation back to the origin or to any other destination.
Congratulations to Emons Air and Sea for the creation of their new department!