Conqueror members can now join freight forwarding courses along with a SOC Container Masterclass
Conqueror has established a partnership with the Canadian International Freight Forwarders Association and Container xChange. Due to this agreement, these two internationally recognized associations are now offering members two freight forwarding courses and a SOC Container Masterclass. The objective of this online e-learning platform is to allow agents to upgrade their skills and knowledge base by training their employees. The courses are ideal for both newcomers in the sector and professional forwarders who want to upgrade their know-how and expertise.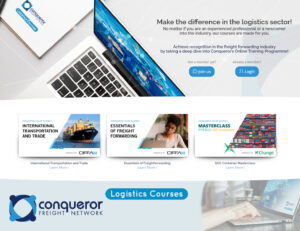 Antonio Torres, the President and Founder of Conqueror Freight Network, is proud to present the courses. According to him, "In an industry that is constantly evolving, independent freight forwarders must permanently renovate their knowledge. Additionally, the emerging demands in logistics require further specialization and value-added services in freight forwarding operations. This is why we have created Conqueror's online academy to help members up-skill their team right from their home or office."
The Academic providers
The Canadian International Freight Forwarders Association is a certified training provider. They have over 60 years of experience in education. CIFFA education programs are designed by industry experts. Moreover, their courses seek to provide students with the highest level of quality and professional services.
Container xChange is a neutral online platform used by 600+ small to mid-size as well as large companies. Their main aim is to make these companies gain market transparency, avoid detention charges and find trusted partners. They offer a wide range of training material enabling forwarders to better comprehend the topic of the leasing container industry.
The Courses
The CIFFA course on International Transportation and Trade will educate the agents about several aspects of this sector. This includes the fundamentals of international logistics, risk management by selecting the appropriate Incoterm, freight rate, and load shipment calculation. It also covers other vital topics like the types of equipment and paperwork used in the transportation and logistics industry. The registration of this course is already opened. It will start on 1st April and will end on 30th March.
The second course, Essentials of Freight Forwarding, offers lessons on a wide variety of freight topics. Some of the subjects covered are international payment methods, cargo insurance, commercial documents, export packaging, cargo security, alternative transport solutions, etc. Registration for this course will open on 14th June.
The SOC Container Masterclass provided by Container xChange is a comprehensive freight forwarding course about handling Shipper Owned Containers. Agents who register for one of the CIFFA courses will get free access to this Masterclass.
Course participants can complete the course at their desired speed within 3 months. Moreover, the fully interactive courses with video and audio lessons and practical exercises create a productive online learning experience. CIFFA provides students with a downloadable e-textbook, that is fully searchable and has text-to-speech capability. Additionally, they provide online lessons and exercises to complement their learning. Once the training is accomplished, students will receive a certificate.