Network's new conquest
(01-06-2011).- Conqueror Freight Network has signed up Aries Global Logistics, adding New York, Philadelphia, Atlanta, and Miami to its global network. Four months after its launch Conqueror has what it calls "virtual branches" in 100 cities in 58 countries.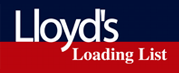 The network is designed to operate like a multinational freight forwarding group, with a single member per city. Conqueror said the idea of the network was to equip members with all the advantages previously enjoyed only by the large forwarders, including a global network of reliable agents, exclusive software to delimit territories, a payment-protected environment, and a dispute resolution service.