Since our launch in 2010, Conqueror has experienced a quick rise to the top with our exclusivity, disciplined cooperation and secure payment environment attracting thousands of applications. As defenders of quality, we were determined to only allow the best to join, which is why only a mere 10% managed to pass our rigorous selection process.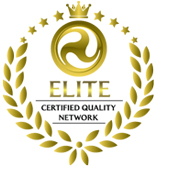 Unfortunately, with new networks being formed on almost a weekly basis, it has become increasingly difficult for freight forwarders to differentiate bona-fide quality networks, like Conqueror, from those that operate using dubious practices, provide poor quality services, offer unsubstantiated benefits, lack proper financial backing, fail to implement membership vetting procedures and are generally unable to fulfil their stated obligations to their membership. This not only damages the reputation of Freight Networks, but also creates much confusion among freight forwarders. To tackle this ever-present issue, a new association has been created, ELITE Association of Logistics Networks (ELITE) of which Conqueror is now a member.
ELITE is not a network itself, it is a tool by which we can differentiate bona-fide, high-quality networks from the many unscrupulous networks around the world – providing clarity and visibility to the global logistics industry.
ELITE has a second, equally important role in representing the freight forwarding community in an industry that has until now been dominated by the large multinationals. Representing the views of its members, ELITE will actively participate alongside associations and government bodies to ensure that the SME sectors needs and views are considered as new industry programmes, rules and regulations are devised

IATA's
Head of Global Cargo, Des Vertannes, has welcomed the formation of ELITE, stating that with the industry currently undergoing major changes it is essential that all sectors work together. "ELITE has the potential to become a powerful and potent voice for freight forwarders around the world. The size and quality of the networks within ELITE ensures that their views will be heard and taken seriously by associations, regulators and carriers. We look forward to forming a close strategic relationship with ELITE and working together to drive new efficiencies for the benefit of us all."
Other members include Global Logistics Network, Global Project Logistics Network, Lognet Global, Project Cargo Network, Time Critical Logistics Alliance, Universal Freight Organisation, Worldwide Partners Alliance and WCA Family of Logistic Networks.
RELATED ARTICLES
Freight Business Journal • HLPFI • International Business Magazine • International Transport Journal
International Trade Magazine • Lloyds Loading List • Load Star • Logistics Manager
Logistics Update Africa • Supply Chain Digital • Supply Chain Europe