Conqueror's 10th Anniversary was celebrated during Conqueror's 2nd Virtual Meeting that brought together network members on one platform on the 29th and 30th of November
Conqueror Freight Network turned 10 in 2021. The network celebrated this special occasion during its 2nd Virtual Meeting. Moreover, Conqueror screened a special commemorative video of all the highlights of the Annual Meetings in the last 10 years. Conqueror started its journey in 2011 with members in 47 cities and now it has come up as the largest exclusive international freight forwarders network with over 260 members across 137 countries. Some of the most prominent supply chain websites of our time have published the news of Conqueror's 10th Anniversary and 2nd Annual Meeting.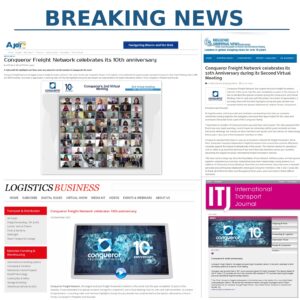 Logistics Business, DC Velocity, Hellenic Shipping News, AJOT, and Veintepies are the logistics web journals that covered this news.
Logistics Business is an UK based website dedicated to the transportation and logistics industry. It updates the readers with important news, opinions, and reports from the global supply chain sector.
DC Velocity is a market leading multi-media magazine brand that comprehensively covers the news of all aspects of logistics. Its unique content model allows the readers to be at a competitive advantage in the marketplace.
Hellenic Shipping News is a daily online newspaper for shipping and logistics news. Moreover, it provides extensive coverage of the international shipping industry with a special focus on Greece.
AJOT or American Journal of Transportation is a pioneering web journal covering transportation and logistics news. This century-old magazine, offers the latest news and insights from the supply chain industry.
Veintepies is a news portal offering valuable information to anyone who has to make business decisions related to transportation and logistics. With a large reader base in Spain and Latin America, it publishes news, opinions, and articles related to this industry.
International Journal of Transport aka ITJ is a transportation and logistics journal published by Swiss Professional Media AG. Additionally, their team of highly qualified journalists seek to provide their readers with out up-to-date, practical reporting on this sector.
The Press Release published in all the above websites talks about the journey of the network in the past decade. It also touches on the success of their 2nd Virtual Conference that hosted over 1680 one-to-one videoconferences. Additionally, it also provides an overview of the FreightViewer workshops and the screening of the celebratory video during the online conference.