Small and mid-sized logistics companies definitely need to be part of a freight forwarders network to compete with multinationals. Otherwise, they run the risk of missing out on a lot of businesses, benefits, and opportunities for growth. Most importantly, the freight networks allow freight forwarders to branch out by finding global partners and increasing their coverage area. Thus, the networks give the small forwarders a chance to grow their business. Nevertheless, choosing the right logistics network can indeed be a difficult task since your options are plenty. This is precisely what we will be discussing in today's post.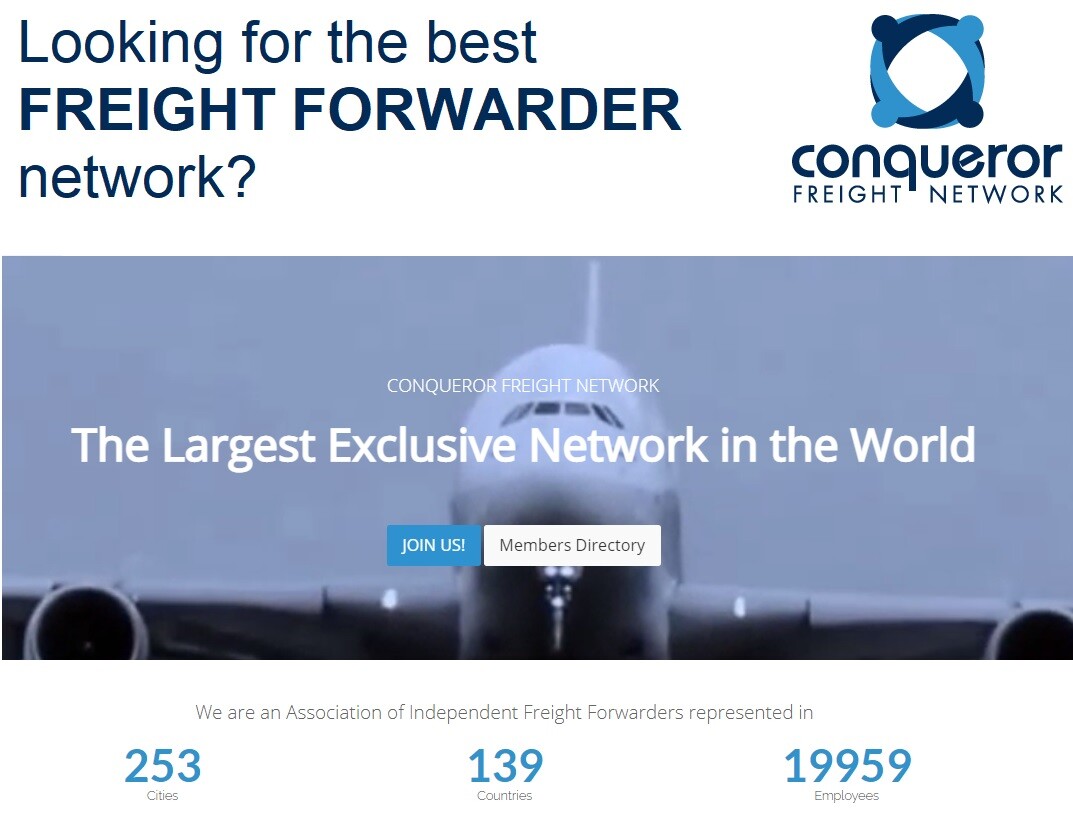 Things you should consider before joining a freight forwarders network:
Territorial Exclusivity
Territorial exclusivity can be a major consideration for many freight companies. This will allow them to be the sole representative from their area of operation. It implies that the company is the only agent of the network from a given port or city. This way, the forwarder will benefit from the entire network with businesses from/to the city they are operating from. 
Reliability of the partners
Probably the most important reason why freight forwarders join a logistics network is to find reliable global partners. There are many freight networks that accept any and every logistics company as a member in exchange for a membership fee, without vetting them properly. This leads to the problem of untrustworthy agents who are not financially solvent. Putting it simply, an unvetted agent might turn out to be a bad payer.
For this reason, companies need to be extremely wary of dealing with such companies. Being a part of a reliable network that thoroughly background checks members before admitting them will surely avoid this risk. The network should have a strong selection process that takes into account several factors. For instance: financial capacity, reputation, business volume, creditworthiness etc before taking them on board. This should definitely be one of the vital considerations of freight companies while selecting a freight forwarder network.
Wide coverage
Agents need to be a part of a network that offers wide coverage in all the major ports and cities around the world. This way they will have partners in all the important cities. This will allow them to provide services to/from those areas to their area of operation. Moreover, this will turn into more business for that agent.
An international brand name
When looking for a network, it is only natural for the freight forwarder to expect an enhanced brand image. There are very few internationally recognized logistics networks that are brand names in this sector. Becoming a member of one such network is sure to give a boost to your brand image. A globally acknowledged brand will not only give you the highest possible quality of services but will also augment the scope of your business.
Subsequently, you will obtain a global brand name and several resources to further improve your offerings to your clients. Being a part of a well-recognized network will also promote your company and help you place your organization in a better light. For this reason, even if you have to shell out a few more bucks, it is still advisable that you become a member of a well-reputed and globally acknowledged network. This is going to be of a lot of advantage in the long run.
New business opportunities
This is yet another important factor that needs to be kept in mind before joining a freight forwarders network. Finding new projects and working in collaboration with international partners should in fact be your primary consideration before joining a network. This is because obtaining new business will increase your ROI and this, in turn, will help you achieve the bottom line of your company. There are some networks that specifically emphasize this point and make it mandatory for members to exchange a portion of their shipments. This allows the members to get sales leads and routed cargo thus significantly increasing the number of projects they are working on.
The ability to bid for the biggest contracts
The network you're becoming a part of should give you the ability to bid for high-value contracts. You can achieve this by joining a network with an international brand name and reliable and competent partners in every major city around the world. This will enable you to bid for the largest contracts as the exporters will now be convinced of your capability to meet your obligations.
A yearly convention with your partners
An international network of partners and collaborating with them to augment your business volume is the major reason why you are joining a freight forwarders network. To this end, exchanging emails and -phone calls with your partners is not enough. You need to meet them face to face at least once a year for strengthening your connections and for doing the networking required to survive in this competitive market. A network that is committed to the enhancement of its member companies makes sure to arrange for yearly conventions with all the agents.
In these meetings, the members come together for face-to-face business meetings where they can discuss the prospects of exchanging projects in the coming months. This can have a positive long-term impact on your organization. It will help you promote your business in front of people who matter the most. So before joining a logistics network ensure that it allows you to have yearly meetings with your fellow members.
Opportunities for digitization
Some of the top freight networks offer a broad spectrum of online tools and software that the members can use for free. As an independent freight forwarder operating in Industry 4.0, you surely need to choose a logistics network that offers these kinds of benefits as well. The freight forwarding industry has finally woken up to the call of digitization. Companies are competing with each other for providing instant digital solutions for the benefit of their clients. In a time like this, you should try to become a part of a network that promotes your digital endeavours and provides you with easy solutions for an enhanced customer experience.
Conqueror Freight Network
Conqueror Freight Network is the largest exclusive network of freight forwarders worldwide, represented in more than 250 cities and over 140 countries. It is an international alliance of hand-picked freight forwarders in exclusive territories, disciplined cooperation, and a single brand name.

Conqueror gives one agent in each local market a network of top-class agents, well-defined territories, an Annual Meeting with high attendance and much more. Conqueror Freight Network is the first freight forwarding network with global coverage to launch instant quotation ability for its members through its exclusive TMS: FreightViewer, which allows members to quote 24/7 in seconds.