When it comes to global manufacturing and freight volumes, certain events generally trigger an escalation of demand. For example, during Christmas, Hanukkah or Black Friday, logistics managers have a hard time coping with the upsurge in demand and lack of carrier space. The Chinese New Year is one such peak season for the transportation and logistics industry when shipping companies need to think ahead and make preparations for the increased demand for commodities.
It needs to be remembered in this context that the Chinese New Year is also celebrated in countries such as Singapore, Indonesia, Malaysia, Myanmar, Thailand, Cambodia, the Philippines, and Mauritius, as well as many in North America and Europe. This Chinese New Year will fall on 1st February. Additionally, like always there will be a one-week public holiday in China from 31st January to 6th February.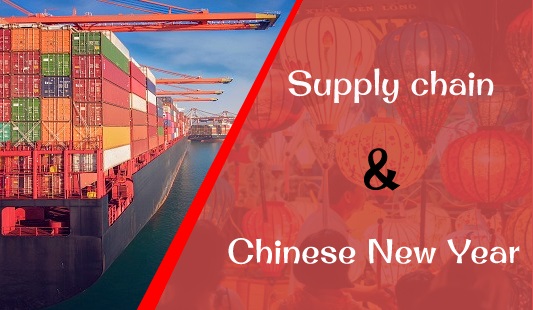 During this time, the capacity from China and Asia is almost full. Moreover, forwarders need to cope with blank sailings, delays, flight cancellations, and lengthy transit times. This year, the situation will be further complicated because of the increase in Omicron cases and China's zero Covid policy. Keep reading today's blog to find out how the Chinese New Year will impact supply chain operations. Additionally, we will also discuss a few tips for independent freight forwarders to cope with the upcoming peak season.
The Situation of the Transportation and Logistics Industry During the Chinese New Year
Closed factories
During the time of the celebration, most manufacturing units are closed in China. They remain closed throughout the week of the public holiday. Nevertheless, shippers start feeling the impact of the holidays weeks earlier. Moreover, it takes around 4 to 6 weeks for the factories to return to their usual production level.
Reduced workforce
Another thing to remember in this content is the reduced labour capacity in China during these weeks. The New Year is the only time when the labourers in the manufacturing and logistics sector go home to spend time with their families. There are many instances when these workers do not return to their jobs. The companies take even more time to hire new employees as a result, they take two or even three weeks to get back to their normal operational standards. Logistics managers need to remember that the pandemic will further aggravate the logjam during the new year. This is precisely why it is important to prepare your supply chain for CNY 2022.
Delays in shipping
Most ports in the country are shut down during the Chinese New Year Holidays. Chinese ports are some of the busiest shipping hubs in Asia. Therefore, the impact of the port closure spells out considerable trouble for the shippers. The obvious impact is massive delays, hikes in rates, and often both.
Tips for independent freight forwarders to prepare for CNY 2022
Independent freight forwarders need to remember that the pandemic will further aggravate the logjam during the new year. This is precisely why it is important to prepare your supply chain for CNY 2022. Additionally, the 2022 Winter Olympics will take place in Beijing between 4th to 20th February. Although there are no official announcement for restrains on transport, you can expect tightened restrictions on the movement of dangerous goods. Finally, the recent Covid outbreak could lead to road closures, reduced labour, and flight cancellations. For this reason, you need to chalk out a strategy to minimize the disruption of your operations.
Plan ahead
To begin with, you need to mark your calendar and come up with a strategy for moving goods before and after the CNY holidays. The CNY can stop freight forwarders from accessing the manufactured items for up to one month so you need to keep extra stock before time.
Talk to your network partners in China
We encourage you to reach out to your CQR partners in the Chinese territories whose vast market experience would help you cope with the market situation and find the ideal solutions. As some of the best freight forwarders, Conqueror agents will help you navigate the CNY and its pitfalls and ensure that your operations run smoothly. They are some of the most reliable and competent freight forwarding agents who will give you an exact idea of the scenario, provide you with an insider connection and find the most innovative way-outs.
Have good relationships with your suppliers
Usually, there is massive pressure on the suppliers in the time before and after the Chinese New Year. This is why they often need to prioritize their orders as well as customers. We would suggest you to form a strategic plan with your supplier and if possible create a diverse pool of suppliers.
Build a good relationship with the air freight companies
You need to figure out the entire logistical framework including shipping, road freight, and storage. This will allow you to easily tackle the problem of any break in any part of your supply chain. Having a strong relationship with the air freight companies can help you during this difficult time. It will ensure that you get priority treatment whenever there is a considerable backlog. Simply put, good relations with your air freight company and your suppliers will provide you with much-needed leverage when the channels of transportation are jammed because of high demand.