Any successful company in the transportation and logistics industry is surely aware of the importance of having a trained and skilled workforce. Simply put, investing in talent is one of the best ways of retaining the best employees who are the biggest assets of independent freight forwarders like you. The best freight forwarding companies are implementing dedicated employee training programmes for greater productivity and a high level of workforce retention. Both these factors are indispensable for the sustained business growth of the companies.  In today's post, we will discuss how investing in employee training is becoming imperative in this constantly evolving and increasingly competitive market.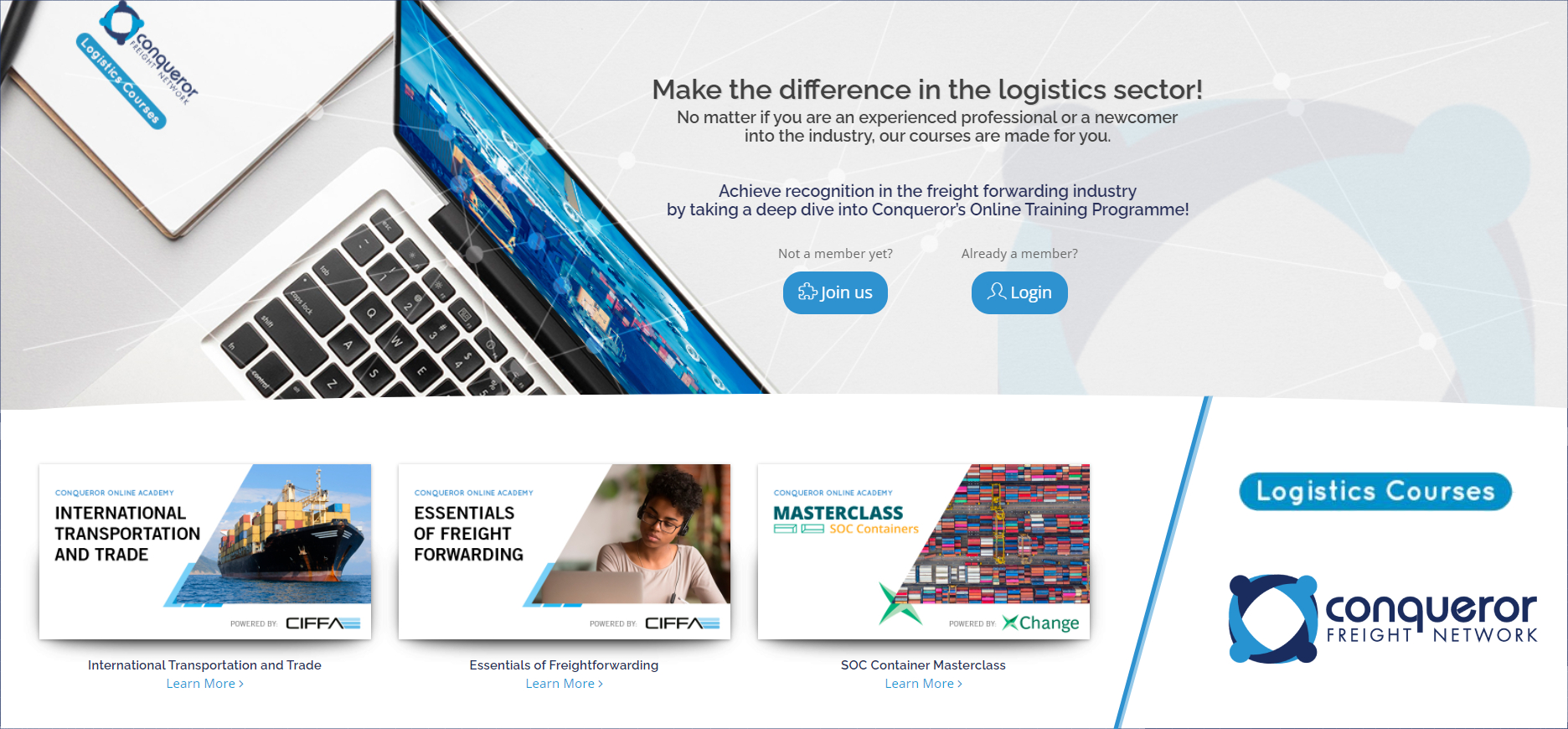 Defining workforce training and development
Employee training has become a crucial business strategy across industries not just to retain employees but also for the creation of a highly skilled and professional set of workers. Employee training programmes seek to train your newly recruited workers, get them acquainted with vital industry topics and prepare them for the industry challenges.
Additionally, training your workforce will enable your team to go beyond their immediate work roles and take up more responsibilities involving decision making. Simply stated, employee education will boost the future performance of your team, and adapt them to the changes in the industry. Undoubtedly, only those companies that keep evolving with the changing environments perform best over time.
A bit about Conqueror's online employee training programme
Conqueror's opened its online training academy precisely to help you upskill your employees and get a competitive edge. While our courses can help you to learn and execute complicated logistical processes, the certification you will obtain will allow you to attain career advancements and elevate your position in this competitive sector. To this end, Conqueror has teamed up with two globally recognized organizations in the transportation and logistics sector- CIFFA (Canadian International Freight Forwarders Association) and Container Xchange.
Conqueror members can go for two specialized freight forwarding courses provided by CIFFA on- International Transportation and Trade and Essentials of Freight Forwarding. The SOC Container Masterclass by Container xChange is a comprehensive course about handling Shipper Owned Containers.
One of the primary benefits of these courses is that they can be taken both by the newcomers in the industry to acquire skills and knowledge as well as by experienced forwarders who want to stay updated with the industry trends. Simply put, Conqueror's logistics training programmes will help you plan and execute shipments more professionally and offer smart and bespoke services to your customers.
Lastly, being online, you can take these courses without having to travel for an in-person class. The convenient virtual classes do not come with a fixed schedule. Therefore, you will get enough time to complete them right from the comfort of your home or office. Conqueror's freight forwarding training courses will allow you to cut down the costs without compromising on the quality of the training.
Why companies in the transportation and logistics industry should invest in employee training programmes
Quick onboarding time for new employees
Onboarding is the process of introducing new employees to their daily tasks and providing them with all the tools required to succeed in their new roles. However, this can be a time for reduced productivity as the new recruits are coping with the rest of the team and the logistics managers need to take time out of their schedule for training them. This is where the importance of employee training comes into the picture. Employee training educates the newcomers about the fundamentals of this industry. They get to learn about the successful execution of shipment, about the different logistics terms, and also about all the paperwork required in this sector. It frees up the time of the workers in managerial positions while improving the skills and knowledge of the newcomers.
Greater employee retention
Replacing your company's assets is way more expensive than retaining the existing ones. This is one of the primary reasons why you should invest in training your employees. As per a study by Gallup, replacing a worker can cost the organization almost 150% of the yearly salary of that worker. Training lowers the employee turnover rate and allows the company to have a proficient workforce. Moreover, your employees will know that the organization is invested in them. This is one important factor that motivate your workforce not to leave your organization
Keep pace with the changes in the sector
The transportation and logistics industry is evolving constantly. Training your workforce is all the more important if you want to keep pace with the changes in the rules, regulations and technology in this sector. A well-designed logistics training course keeps the learners updated with the needs of logistics 4.0 and helps them secure their position in the industry.
Stay ahead of the competition
At a time when the business environment has become increasingly competitive, a certification course for your employees can come with tremendous advantages. It will help them to adopt new work models and master the use of new software. In other words, it will help logistics companies to get a competitive edge and maintain their relevance in a constantly evolving supply chain.
 Increase your productivity
A trained employee is generally more productive- showing a greater level of work output than an untrained worker. In other words, training boosts the skills and proficiency of the employees and helps to increase the quality and quantity of work output. Relevant and consistent training programmes can help companies to enhance their performance and boost their operational efficiency.
Prepare your workforce for new roles
Employee training prepares your team to take up new roles and responsibilities. It allows your existing employees to fill up higher positions. This is very useful for a company since finding and hiring new talents requires time and expenses. Moreover, your existing employees are already familiar with the intricacies of your operations and work processes. Therefore, they can start working instantly.
 Boost your employees' morale and job satisfaction
Apart from fostering the hard and soft skills of your workers, training also helps to elevate their morale and job satisfaction. In other words, it motivates your employees to brainstorm and come up with new solutions to a logistical problem. It enhances your work atmosphere and encourages the team to stick to your company's standards. Additionally, better job satisfaction also inspires them to better serve your clients.
 Remote learning saves both money and time
Online employee training is probably the most convenient way to prepare your workforce for the logistical challenges in the post-pandemic world. Remote learning eliminates the need to go to a class for training. For instance, Conqueror's training programmes, allow the network members to receive quality freight forwarding training right from the comforts of their home or office. Most importantly, the classes are flexible and can be taken by the learners at a convenient time. They can even complete them at their desired speed and get a certificate on successful course completion.