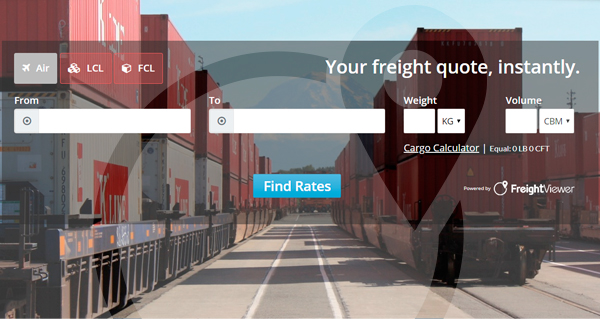 As one of the best freight networks of our time, Conqueror Freight Network, not only offers its agents an international brand name and the ability to do business with the most reliable global partners, but it also makes available a range of online tools that promote the work efficiency of the member companies. In a time when all the major players in the industry have digitized their operations, independent freight forwarders need to devote considerable time and resources towards digitizing their day-to-day operations. However, this task is not easy and can be an expensive one. After all your specialty is freight forwarding, not IT. For this reason, Conqueror offers a range of free online tools and platforms that quickens your day-to-day work and allows you to provide better customer service.
The online tools offered by Conqueror one of the best freight networks of our time

A free Transport Management Software
Conqueror Freight Network has secured its position as one of the best freight networks by becoming the first international freight forwarding network to provide instant quoting ability to our members. Our member-exclusive platform FreightViewer, allows the members to digitize the process of uploading contract rates, allowing them to share it immediately with their clients and partners. As a member, you can provide your clients with a quotation almost instantly without having to make them wait for two or three days. This tool organizes all the freight rates in one platform, enabling you to create a detailed customized e-mail or PDF for the requested quotation. This quotation can be mailed to your clients and partners immediately. FreightViewer also provides personalized websites for all members to share their rates and achieve a greater business volume. Moreover, Conqueror's FreightViewer department works round the clock to add new features and updates to this software.
A game changing tool in the freight forwarding sector
FreightViewer enables you to build a digital back office. By uploading rates into the system, you are able to quote in a few seconds, compare rates between different carriers, and filter under several attributes to obtain the most accurate quotation. Additionally, Conqueror has reached a partnership with Shipco Consolidator one of the world's leading neutral NVOCCs. This provides members direct access to LCL rates from FreightViewer. Speed in quotes is essential in the digital era. However, this speed cannot take away the precision in calculations, especially in an industry where costs are so adjusted and errors can mean loss. Therefore, it is important to count on reliable freight and logistics tools to calculate the rate, FOB charges, profit margin, and surcharges.
Digitization in this industry means becoming an online freight forwarder. If you are not online you are almost invisible. FreightViewer enables your company to go online through a personalized website where your customers can register or log in to quote or send requests. All quotations sent through this website will immediately reach the freight forwarder who will complete the quote. Additionally, all this information is automatically shared with clients throughout the website. Connecting both, freight forwarders and customers means a great improvement in transparency which is always appreciated by the clients.
Other Online Tools offered by Conqueror
Cargo Tracking System
The cargo tracking system is an online tool that allows members to access real-time information from 101 shipping lines and 159 airlines with just a click of the mouse. Conqueror's software will connect the agents with the relevant carrier and instantly provide them with the precise shipment status at any given moment. Members can easily track their cargo by simply entering the AWB, Container or B/L number in the boxes and clicking 'Track".
Carrier Schedule
Conqueror's partnership with Linescape.com allows the agents to search the sailing schedules of over 125 shipping lines in real time. With the Carrier Schedule tool, our members can access real-time information on upcoming sailing dates with the vessel's name, transit time and ETA at the destination.
Agent Finder
The agent finder tool allows members to find network partners in their desired areas. All you need to do is enter the territory where they need a partner and the tool will provide you with the contact details of the partner in that city or in the nearest city/port.
Why Conqueror's digital tools are relevant for Logistics 4.0
The ability to adapt to difficult circumstances is one of the best skills of freight forwarders. Successfully overcoming last-minute issues is their daily task. But the digital transformation, together with a worldwide pandemic has put freight forwarders to one of the major tests in their careers. The stalwarts in this sector have invested millions of dollars to digitize their operations and the small and mid-sized players are not lagging behind. In other words, freight forwarders need to make the digital shift to stay relevant in this industry. The digital transformation is now happening in this sector and forwarders are in the race to once again adapt to the big changes.
Digital investments not only help to adapt to customers' needs but also enhance operations and increase profits. However, for many companies, this transformation has become challenging. Investing in technology requires amending yearly budgets along with staff training. Therefore, it is important to be part of one of the best freight networks that can provide a digital strategy to freight forwarders who are willing to start the digital change. Offering the correct tools to members to succeed in the digitization process is one of the core strategies of Conqueror Freight Network.