CQR Pusan is the 1st logistics company in Korea has been broadcasted on Ariring TV from 1st -3rd December
CQR member in Pusan, Forman Shipping Co, which has been in operation since 2002, went on air on the 1st, 2nd and 3rd of December for their remarkable achievements in the logistics sector. After receiving the GRAND PRIZE from the Ministry of Oceans and Fisheries in the Ocean Logistics Sector, they were selected by Arirang TV for being broadcasted on their Bizsmart TV programme as an attempt to introduce and promote their company before a global audience.
We invite all our fellow agents to glance through the programme which can be viewed by clicking on the image below: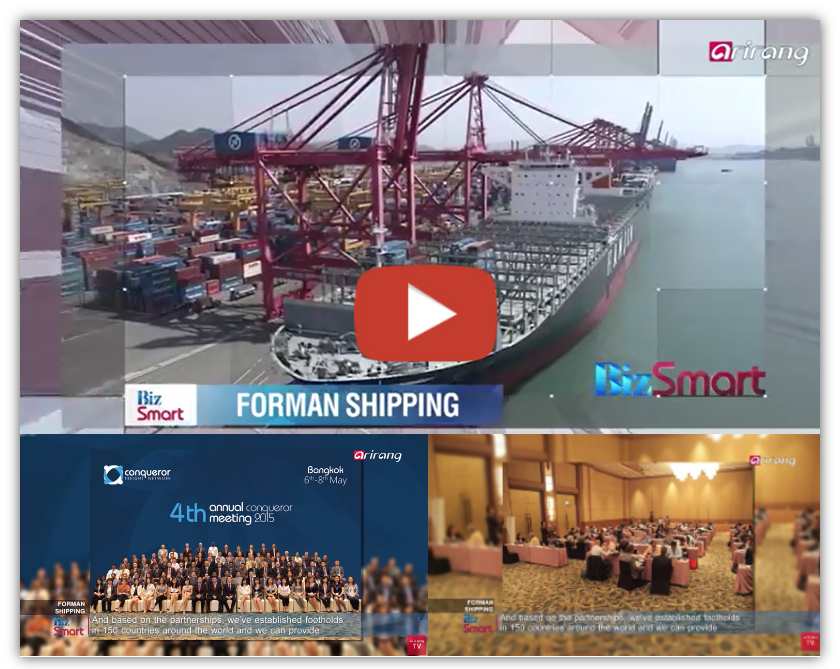 Arirang TV is a public TV broadcasting company which works in close cooperation with the Ministry of Culture, Sports and Tourism of South Korea. In the words of Patrick Jun of Forman Shipping "After many years of consistent effort by our team, we have finally received the much-needed encouragement."
Conqueror would like to congratulate Forman Shipping for coming up as the #1 logistics company in South Korea!