Conqueror's December newsletter includes all the news from our agents in the last three months along with relevant news from the supply chain industry
The December edition of Conqueror's newsletter is now out. Inside the newsletter, there's a special post on Conqueror's 10th Anniversary. Additionally, we have also included a post about the objectives of our network for 2022.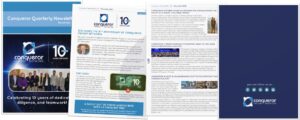 Click on the above image to read the newsletter
Like always, this newsletter will update you with all the latest news from your network partners. We have covered the news about the recent achievements of our network members in Nouakchott, Antwerp, Muscat/Sohar, and Chengdu. Moreover, there is a special report where Manuel Cardona, Conqueror's IT Manager and FreightViewer Developer, talks about the origins of FreightViewer and our ambitions with this platform.
This newsletter is also packed with all the important news and news bits from the transportation and logistics industry. Our sector news in focus is about the rising cost of LTL freight and the reasons behind it. There is yet another article on the problems of maritime piracy and the areas that are most affected by it.
To feature the latest news of your company in our next newsletter, kindly send us an email with a few lines about your recent undertakings.
Hope you enjoy reading!