Scoop Cargo recently celebrated its 20th anniversary, reflecting on two decades of remarkable growth and numerous accomplishments since its establishment in 2004
Scoop Cargo, Conqueror member in Tunis, Tunisia, completes twenty years in the logistics sector. From its inception in 2003 Scoop Cargo has consistently expanded its footprint in the logistics sector, establishing itself as a key player in the industry.
Over the years, the company has achieved significant milestones, including gaining recognition as an IATA member and affiliating with esteemed organizations such as the Forwarders Association and Chamber of Commerce.
Speaking on this momentous occasion, Cherif Haj Slimane, the Managing Director of the company, expressed gratitude for the journey thus far. "We have come a long way, and I, along with the entire team at Scoop Cargo, look to the past with immense pride. As we celebrate our 20th anniversary, we also think about the future with courage and open eyes, eager to embrace it with the same passion and dedication that has brought us to this milestone."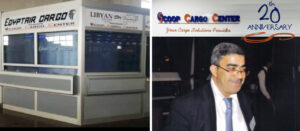 Their commitment to excellence, innovation, and industry partnerships has been pivotal to its success. The 20th-anniversary celebration is a testament to Scoop Cargo's resilience and adaptability in an ever-evolving industry. Additionally, they continue to remain at the forefront of technological advancements, ensuring to provide cutting-edge solutions to its clients.
Congratulations to Conqueror Tunis and here's to another two decades of success!