CQR Antwerp successfully completes acquisition of the ATO terminal in partnership deal with NMBS LOGISTICS
VAN MOER LOGISTICS, Our CQR member in Antwerp, has taken the next step in its intermodal transport strategy with the purchasing of ATO terminal in the Port of Antwerp, in collaboration with NMBS LOGISTICS. The agreement between the two firms, announced last Friday, means that VAN MOER will takeover 50% of the terminal port.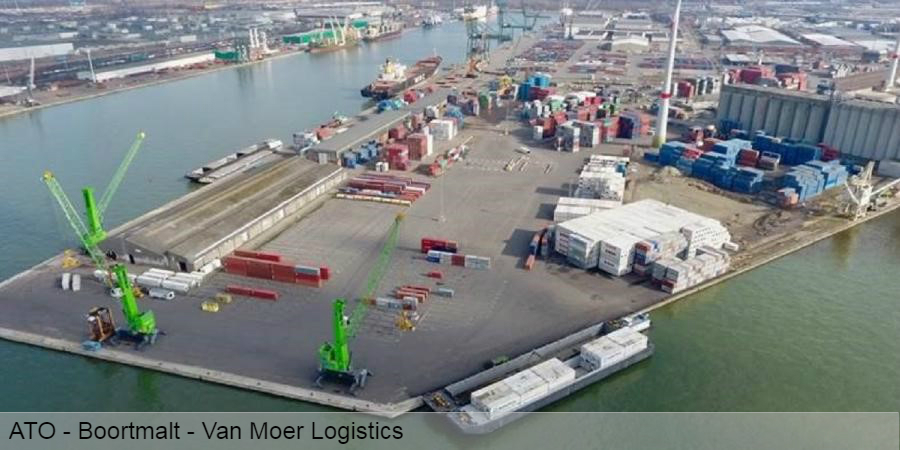 The ATO terminal covers almost 175,000 square-metres and processes over 500,000 TEU's per year along its ½ kilometre-long quay. With the arrival of VAN MOER LOGISTICS, this is sure to increase, while Belgian malt producer BOORMALT will be investing in additional production capacity at the 6th dock of the terminal.
VAN MOER's barge service, iBarge, which operates daily calls at the Vilvoorde terminal, Umicore and Blue Gate, is now complete with the incorporation of the ATO terminal. Apart from servicing water-bound logistics, ATO will also function as a primary hub for the hinterland corridor.
Jo Van Moer, owner of VAN MOER, and Patrick Lecluyse, CEO, said "We are delighted with this partnership, which has allowed the synergies to reach their full potential and create the missing link in our intermodal strategy. We have found the perfect partner with Boormalt and are looking forward to their cooperation".
We'd like to wish VAN MOER all the best with this impressive new venture!