The Authorized Economic Operator Certificate which was issued by the Indian Customs is going to help them secure their position as one of the best freight forwarders & customs brokers in India
Modern Cargo Services, the Conqueror member in Mumbai, India, has garnered the prestigious AEO Certification issued by the Indian Customs. This much-coveted certification implies an internationally recognized security standard which will allow their company to be considered as absolutely reliable in their customs related operations and customs brokerage services for the export and import businesses.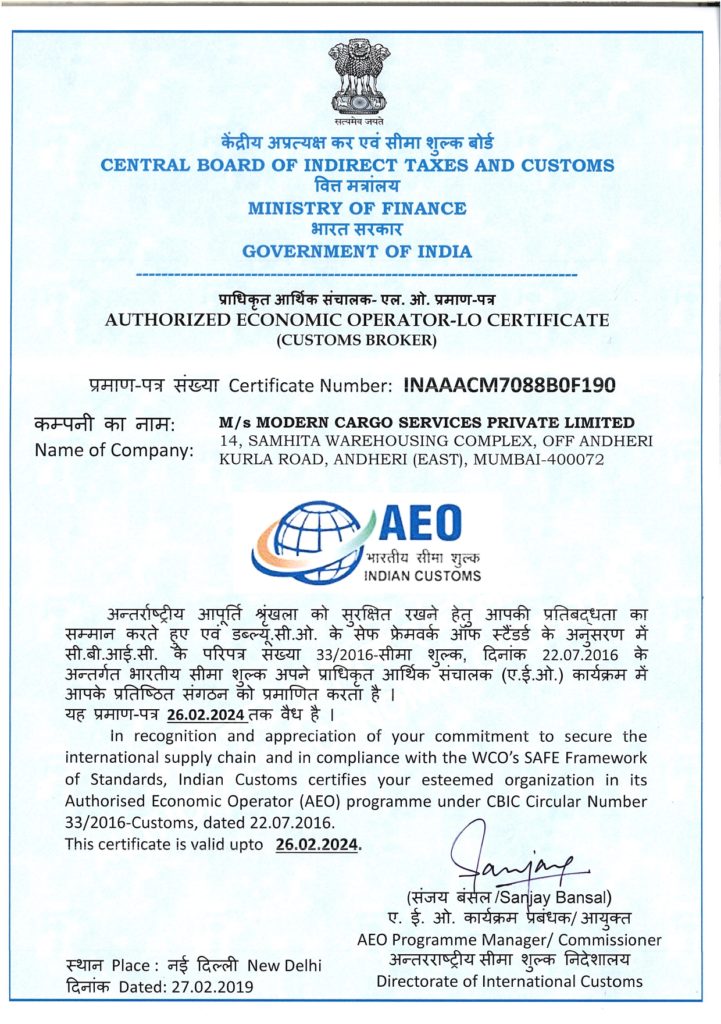 "It is indeed a great achievement to become an AEO certified logistics operator in India which surely sets us apart from our competitors. Thanks to the commitment and the efforts of our entire team, we are all set to carry on as one of the leading freight forwarders of Mumbai." says Mr. P.N. Swaroop, the Director of International Sales & Marketing of Modern Cargo.
On the global scene the World Customs Organization (WCO) classifies an AEO certified company which complies with WCO or equivalent supply chain security standards . It is also governed by the European community law thus giving Modern Cargo Services  the credence and international quality acceptance to make them a truly global logistics operator of repute. That is why it is definitely going to help them build more trust and confidence with their multinational clients and their network partners from all over the world.
Mr. Swaroop further added, "The certificate is also going to facilitate legitimate trade, reinforce security and safety, and harmonize and standardize the application of customs controls. There is no better way to share this quality approval than with the CQR  Members, our  valuable customers and  well-wishers."
Congratulations to Modern Cargo Services for acquiring this prestigious accreditation!