CQR Qingdao, was chosen by GOLDWIND, the largest supplier of wind turbines, in China to ship 5 MW wind driven generator blade from China to Antwerp
In total the team shipped 25 pieces, each measuring 55.2m x 3.4m x 3.8m by road to the port and then stowed the customized steel frames on the BreakBulk WL Shipping vessel. Luckily, they clip together so this was the easier part of the process.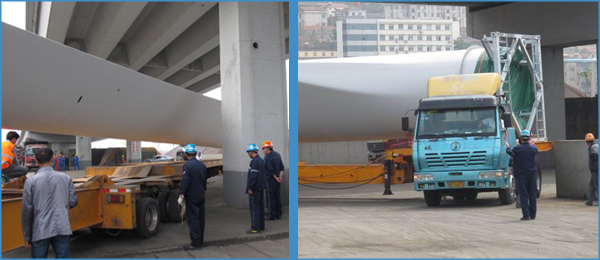 This shipment was not without its challenges as Director Hattie Huang explained. "There were many considerations to be though about before this shipment could even leave its origin. For example we had to ensure each piece was secured and that each vehicle could travel down roads with other road users."
In fact, the drivers became experts at the '3-point turn', or should that be 4-5 point turn! "Yes, at some turnings the corners were more than challenging, however we were not beaten and we got each blade to the port on time," Hattie said. "Although, the port was not that happy as they didn't want to handle the blades at night, nevertheless we soldiered on."
After 48 hours of work, their hard work paid off and the blades sailed off to Antwerp. "Although these shipments are quite mentally and physically taxing, we are specialists in this and this is the 6th time GOLDWIND has requested us," explained Hattie.