With our impeccable IT support, the online meeting will be the most effective way for members to increase their business volume in 2020
This year Conqueror's Annual Meeting will go on the cloud because of the pandemic. Even though we will not be able to get together in person like we usually do, our networking must go on and this is precisely why we have organized Conqueror's 1st Virtual Meeting to be held from 27th to 28th October 2020.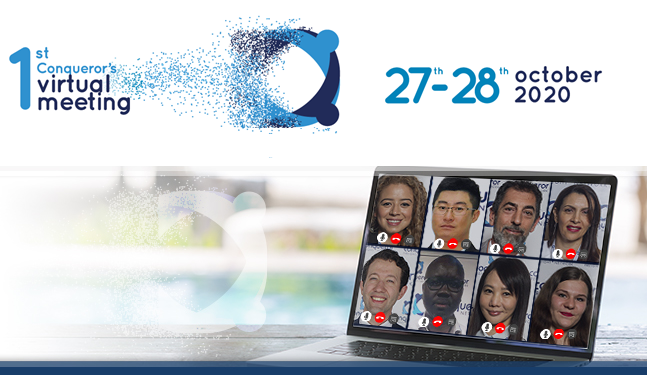 Coming together on one platform at one time will allow our delegates to carry on with their networking activities and talk one-to-one with their partners for increased prospects of collaboration in the coming months.  The virtual face-to-face meetings which will consist of the core of the event will allow for productive engagement among members without jeopardizing their safety. Agents will be able to attend up to 32 one-to-one videoconferences (each of 15 minutes duration) with previously chosen partners at a convenient meeting time.
Apart from the one-to-ones, members will also be provided with a live demonstration of all the new features and developments of our member-exclusive TMS -FreightViewer. Our user-friendly meeting platform will ensure an uninterrupted videoconferencing experience as per the agenda of the delegates. In a time when the global economy has been hard hit because of the pandemic and the ensuing lockdown, it is all the more important for the small and mid-sized entrepreneurs to collaborate and nurture their businesses.
"Since an in-person meeting is out of the question in 2020 our team has worked tirelessly to create an unparalleled networking experience in the virtual format. Our 1st ever online meeting will not only help the members to save time and expenses but also create a highly productive networking experience in the safest possible manner," says Conqueror founder Antonio Torres.
Come online to promote your business, get new projects, and cultivate a better working relationship with your partners!