Conqueror's 1st Virtual Meeting conducted over their exclusive meeting platform ensured that members get to network and collaborate even amidst the pandemic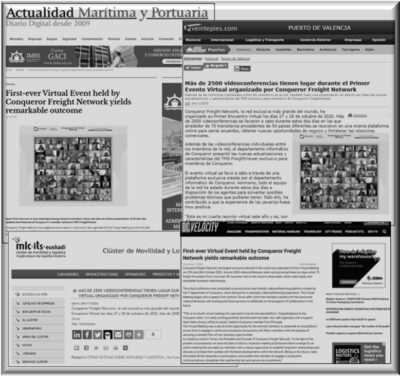 The news of Conqueror's 1st Virtual Meeting of freight forwarders which was attended by 75 members from more than 50 countries has been published a number of websites of the transportation and supply chain sector. The online conference of independent forwarders which took place on the 27th and 28th of October, allowed the members to  discuss new businesses, consolidate their relationships and prepare for concerted projects. The event has been covered by Actualidad Maritma y Portuaria, Veinte Pies, MLC-ITS and DC Velocity.
Actualidad Maritma y Portuaria is a digital diary of the logistics and maritime sector published from Spain. This web magazine is published by the students and professors of the IMBS (International Maritime Business School).
Veinte Pies is a renowned Spanish language digital magazine serving the informational needs of professionals in the logistics and supply chain industry. It provides a comprehensive coverage of all supply chain related topics.
DC Velocity is one of the pioneering multi-media magazines providing a substantial coverage of all aspects of the logistics industry.
MLC ITS is a website dedicated to the logistics, transportation, and supply chain industry in Spain and beyond.
The report published in the above mentioned shipping and maritime websites touches on the successful outcome of the meeting, and the way in which it allowed the members to pursue their networking activities in light of the absence of an in-person annual meeting like every year. The report also mentions the FreightViewer workshops held during the meeting when all the delegates were given an online demonstration of the latest features of Conqueror's member-exclusive TMS.
To find out more about their coverage of our Virtual Meeting just click on the above links.