Conqueror members can download the certificate from the Members Area of the website
Conqueror Freight Network is presently offering an online certificate that corroborates the membership of the network agents. They have made available this online certificate to provide better accessibility to the network's intranet from where members can obtain the soft copy of this certification. Precisely for this reason, Conqueror's IT team has put together a new section in their intranet. The online certification also comes with the date when the network accepted the member.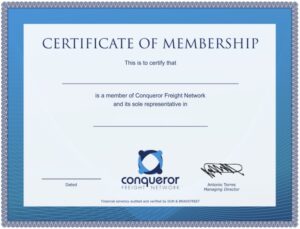 In the words of Conqueror President and Founder Antonio Torres, "As the largest exclusive freight network of the world, we only accept the most professional, reliable and financially solvent companies to our network who need to pass a rigorous selection process. With this certificate, our members will be able to confirm their expertise and competence that allowed them to become a part of our network. Furthermore, this official certificate of membership forms a part of our digitization endeavours that facilitate every aspect of our member's work.
Conqueror members can download and print the soft copy of this document from the Members Area. They just have to access Conqueror's intranet, and click on the "Certificate" tab and download it from the Dashboard.