The implementation of Shipco LCL rates in FreightViewer is an important step in the development of the member-exlusive transport management software.
FreightViewer Department has almost concluded one of the several projects programmed in order to upgrade the fuctionality of the system. Including this new feature in FreightViewer is in the line of Conqueror's commitment to approach a digital strategy, provide end-to-end logistics solutions and enable members to be on pair with main competitors in the industry. The event has been covered by Actualidad Maritma y Portuaria, Veinte Pies, MLC-ITS and DC Velocity.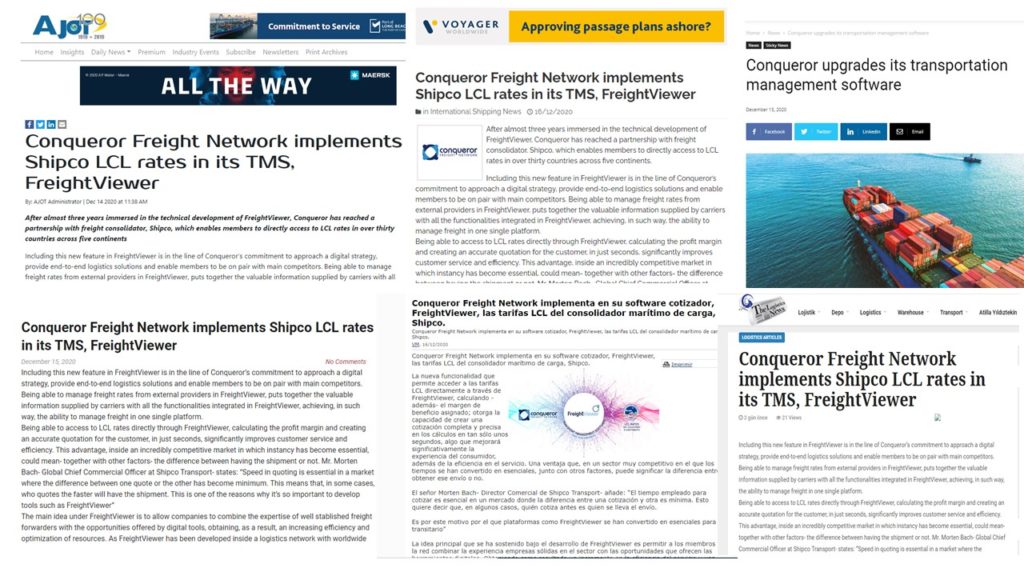 American Journal of Transportation: is dedicated to providing shippers, carriers, transportation intermediaries, and logistics professionals with coverage of news and events that shape the world of international trade and transportation.
The Logistics News: is a digital diary that published contents and news from all over the world in English and Turkish.
Container News: is a shipping and maritime news portal specialized in liner shipping and its container applications.
Hellenic Shipping news Worldwide is an Online Daily Newspaper on Hellenic and International Shipping Leaders in global shipping news for over 10 years Hellenic Shipping News Worldwide.
Veinte Pies is a renowned Spanish language digital magazine serving the informational needs of professionals in the logistics and supply chain industry. It provides a comprehensive coverage of all supply chain related topics.
To find out more about their coverage of our Virtual Meeting just click on the above links.