The successful partnership between CQR Durban/ Johannesburg and CQR Riga/Klaipeda is a perfect example of synergy among CQR members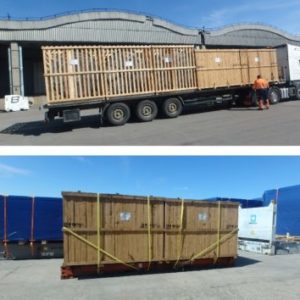 The routes of the shipments were from South Africa via Riga with further road and rail delivery to Uzbekistan and Kazakhstan. The cargo had been transported from Durban and Johannesburg to Port Riga from where they were reloaded on rail platforms for being shipped to Tashkent (Uzbekistan) and Astana (Kazakhstan).
In the words of Sergei Dubinin, Sales Manager of Rinosta Shipping Agency: "This project which has involved several transhipments ports spanning 3 continents has been a perfect proof of partnership within Conqueror. One of the most challenging parts of our project has been the delivery of the OOG cargo. The power of partnership has yielded more than sufficient results and we are looking forward to collaborating again in the near future."
Congratulations to Alpha Shipping Agency and Rinosta Shipping Agency for their successful collaboration!